UI/UX Designer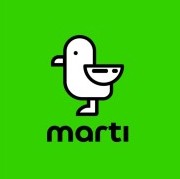 Marti
Design
Istanbul, İstanbul, Turkey
Posted on Tuesday, September 12, 2023
Marti is the leading technology company that has introduced ever-growing micro-mobility trend in Turkey. With the aim of bringing a new perspective to transportation, Marti continues to be a pioneer in the sector with its locally developed software, outstanding employees and millions of customers.
While protecting the environment with its low carbon emissions, Marti offers a practical solution to urban traffic with one shared vision: to make cities more livable through the most innovative electric mobility and to radically fight against the local city traffic. Our expanding passionate team is working with great enthusiasm every single day to make you reach to your destination faster, more convenient and more enjoyable.
We are just getting started!
Marti invites applications from dynamic, innovative and highly motivated candidates fort he following positions:
Requirements:
● Experience designing on multiple platforms (iOS, Android, Mobile web, Desktop, etc).
● Experience designing from UX to visual design (ideation, rapid prototyping, iterative testing, visual hierarchy, colour, type).
● Extensive knowledge of web and mobile design patterns.
● Highly proficient with design tools and interactive prototyping tools (e.g., Adobe XD, Sketch, Figma, Invision, Origami, Photoshop, Illustrator, etc.).
● A portfolio showing high quality, thoughtful UI and UX work.
● 3+ years of experience working in design related fields.
● (Nice to have) An understanding of how designs intersect with technical implementations.
Responsibilities:
● Establishing design patterns for our global Marti experience.
● Drive the product design process on your team end to end, from ideation, to iterative testing, and, finally, to visually polished solutions.
● Working with the product team and engineers to craft engaging user experiences that seamlessly connect real world and digital interactions.
● Design for immediate launches while thinking about a scalable future vision.
● Conducting user research and using that data and insights to make appropriate design decisions.
● Rely on a healthy mixture of user insights, behavioral frameworks, and intuition to inform your design decisions.
● Influence the shape of the product with research and data while executing design work using high quality wireframes, mockups, user journeys, and cross-platform interactive prototypes.
● Inspire the entire team partners by bringing new ideas to the table.