Business Performance Analyst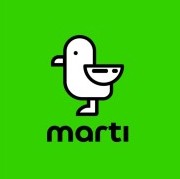 Marti
IT
Sarıyer/İstanbul, Turkey
Posted on Friday, October 6, 2023
Martı is the leading technology company that has pioneered the ever-growing micro-mobility trend in Türkiye. With the objective of redefining transportation, Martı remains at the forefront of the sector thanks to its locally developed software, exceptional workforce, and a vast customer base that numbers in the millions. In its commitment to environmental conservation through low carbon emissions, Martı offers a practical solution to urban traffic, driven by a shared vision: to enhance the livability of cities through cutting-edge electric mobility and a determined effort to combat local urban congestion. Our rapidly expanding, passionate team dedicates themselves with unwavering enthusiasm each day to ensure your journeys are faster, more convenient, and more enjoyable.
We're just getting started!
Martı extends an invitation to dynamic, innovative, and highly motivated candidates to apply for the following position:
Responsibilities:
Performance Analysis: Conduct in-depth analysis of key performance indicators (KPIs). Dive into factors such customer acquisition, retention rates, and other relevant metrics to identify trends, patterns, and areas of improvement.
Data Exploration: Utilize your expertise in SQL to extract and manipulate data from our databases, ensuring data integrity and accuracy while collaborating with data team.
Visualization: Leverage tools like Tableau to create insightful and visually appealing dashboards and reports. Clearly present complex analytical findings to stakeholders at various levels.
Strategic Insights: Translate analytical findings into actionable insights and recommendations. Collaborate with cross-functional units to propose data-driven actions to optimize performance.
Continuous Improvement: Monitor and track the impact of implemented strategies, making iterative adjustments as needed to ensure sustained improvements. Stay up-to-date with industry trends, best practices, and emerging technologies to enhance analytical methodologies.
Collaboration: Work closely with data scientists, business intelligence analysts, and other stakeholders to align data-driven strategies with broader company objectives. Foster a collaborative environment that encourages knowledge sharing and cross-functional learning.
Quality Assurance: Exhibit exceptional attention to detail, ensuring accuracy and reliability in all analyses. Perform rigorous validation of data sources and analytical models
Process Enhancement: Identify opportunities to streamline data collection, reporting, and analysis processes. Propose and implement enhancements that optimize efficiency.
Qualifications:
Bachelor's degree in Business Administration, Economics, Statistics, Computer Science, or a related field. Master's degree is a plus.
2+ years of experience as a Business Analyst or similar role in a data-driven environment, preferably within high growth company. Mobility experience is a plus.
Strong proficiency in SQL for data extraction and manipulation is preferred.
Expertise in data visualization tools such as Tableau or similar platforms.
Advanced analytical skills with the ability to dissect complex problems, perform root-cause analysis, and develop strategic recommendations.
Exceptional critical thinking and problem-solving abilities.
Keen attention to detail and a commitment to producing accurate and reliable analyses.
Strong interpersonal skills with the ability to effectively communicate complex findings to non-technical stakeholders.
Prior experience in working with large datasets and conducting deep-dive analyses.
Ability to work independently and as part of a team.
Knowledge of the mobility industry, market dynamics, and emerging trends is a plus.