Legal Counsel (Corporate)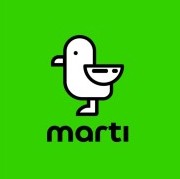 Marti
Legal
Sarıyer/İstanbul, Turkey
Posted on Tuesday, October 24, 2023
Marti is the leading technology company that has introduced ever-growing micro-mobility trend in Turkey. With the aim of bringing a new perspective to transportation, Marti continues to be a pioneer in the sector with its locally developed software, outstanding employees and millions of customers.
While protecting the environment with its low carbon emissions, Marti offers a practical solution to urban traffic with one shared vision: to make cities more livable through the most innovative electric mobility and to radically fight against the local city traffic. Our expanding passionate team is working with great enthusiasm every single day to make you reach to your destination faster, more convenient and more enjoyable.
We are just getting started!
Marti invites applications from dynamic, innovative and highly motivated candidates for the following positions:
Duties for the role are:
Provide legal consultancy and opinion for related departments
Drafting company corporate documents and managing all corporate law processes.
Drafting, negotiating, and concluding various types of contracts including SPAs, NDAs, financing agreements including multinational parties
Assisting and supporting in corporate governance issues
Conducting company's regulatory compliance
Requirements for the successful candidate are:
Bachelor's Law degree
At least min 5 years of experience in a law firm or in house with a focus on M&A transactions, financing agreements, loan agreements, corporate law processes
Previous start-up experience is a big asset
Excellent English (written & spoken)